03/13/2010 Saturday Auburn, WA to Ely, NV
We left Auburn last night around 7PM. I'd intended to pick David up at school and leave directly from there but figured we could make up a little of the time we lost by taking I-90, I-82 and I-84, then heading south from Twin Falls to Ely rather than my original plan to go through Portland, Bend, Burns Winnemucca, Carlin and Eureka mostly on secondary roads. I drove to Yakima, David to
The Known World
, an audiobook I picked up at the library, I was able to drive as far as Baker City. Around 2AM I found the Oregon Trail agate site, along the dirt road which branches right off the gravel road which leaves OR Hwy 86 across from the OT interpretive center, but an inch of new snow obscured the agates when I went looking for a few minutes at dawn. I slept in the back of the car, David in the passenger seat. It
was a little cramped but not too uncomfortable.
03/14/2010 Sunday Ely, NV to Kanab, UT
is
on Mountain Time) we left at 6AM thinking it was 7 and we had an hour and a half to make it to GBNP for our cave tour. That would have been plenty of time had we not used up the half hour and then some on photo stops for elk and snow and vast valleys with long shadows cast by early morning sunshine. Finding ourselves with 40 miles to go in 41 minutes we made it in 35, not bad considering that we encountered several extended sections of black ice which limited us to 50mph or so. Turns out the Subaru is quite comfortable with 80mph and handles 100mph acceptably if given a long enough section of straight, smooth and slightly downhill roadway.
At the Lehman Cave Visitor's Center the ranger was just putting up the flag when we arrived. I was not inclined to believe him at first when he told me they were on Pacific Time and we were an hour early for our cave tour, but that did explain why the clock at the motel in Ely had been an hour slow. We used our extra hour to eat a leisurely breakfast in the sunshine in front of the visitor's center where the snowbanks were just receding from the front lawn and the only clouds in the deep blue sky were hovering over snowy mountains on the horizon 100 miles to the east.
South of Panguitch we finally began to leave the storm behind us but the snowpack continued to increase until we reached the pass north of the turnoff to Zion, 3-4 feet up there and crusty snowfields lingering on shady slopes all the way down to where we stopped for the night, about 7 miles north of Kanab. There we found the ORV track off the east end of the old road and followed it about a third of a mile in before the sand became too soft. We found a campsite there and though it was nearly 6PM,
set off to the north
across bright orange sand dunes stabilized with juniper, rabbitbrush, oaks and scattered Ponderosa pines. Our objective was Peekaboo canyon, aka Red canyon, a small but colorful slot which runs east-west along the north edge of the dunes. When we hadn't reached the wash in 45 minutes I realized we wouldn't make it so we turned back, reaching the car right at sunset. The evening was cold and breezy so we ate supper in the car, more of the delicious lasagna Susan had sent with us. Thanks to her provisioning and a couple of meals out, we never did have to fire up the stove the whole trip. That was a big help, giving us that much more time to spend out hiking around taking pictures.
03/15/2010 Monday Coyote Buttes South
Our route
Frosty morning with dawn around 6:45 Mountain Daylight Time. We packed up quickly and drove to the Pariah ranger station where we ate breakfast while waiting for the doors to open. About 10 groups were applying for Coyote Buttes North permits; we were assigned number six. At 9:05AM a volunteer ranger spun the wire cage and the first ball she pulled out was #6, so once again, we were in. I thanked Jesus because I'd been talking with him during the night about how I'd been mistaken about the timezone, even though I'd been convinced that I was right, and how I might also be mistaken in my conviction that I'm not saved. Evidently I'm not always correct in my beliefs, and Jesus might be able to do something with that.
The 18.5 mile drive from hwy 89 to the Paw Hole trailhead for Coyote Buttes South was tough. The first 10 miles to the Arizona state line (2 miles past the Wire Pass trailhead) were deeply rutted and often rocky, though fortunately the dirt was hard-packed and only slippery in a few places. The last 2 1/2 miles of soft orange sand after the turn-off to Paw Hole would probably would have been impassable for us were it not firmed up by underlying moisture from winter snow, patches of which still lingered on shady corners.
03/16/2010 Tuesday Coyote Buttes North
Our route
Photo Gallery
We drove out from Paw Hole at dusk intending to camp at Stateline but we failed to notice the turnoff in the dark so ended up spending the night in the parking lot at Wire Pass. On the way I forgot to stop at a snowbank to replenish the cooler so we unpacked all our food and chilled it overnight in the frost on top of the car. Coyotes serenaded us sometime during the night and at 5:30AM a big pickup roaring by on the road woke us up. By the time the first cars pulled into the
Above the two red teepees that the BLM directions reference as landmarks on the way to the Wave, there's a cove enclosed on three sides by weird and wonderful sandstone textures. Daniel and I came across it two years ago on our way back to the car so I took David up there this morning on the way in. It was not far out of our way and well worth the visit.
After poking around a bit above the Wave (though we missed
the Second Wave
a hundred meters or so west of the main event), we scrambled up the slope southwest of the wave and crossed above the crack to the arch, where we ate lunch and spied on the hikers taking photos and eating their lunches in the Wave. After lunch we explored
the bowl with an arch and a window
- I think that might be another 100 meters south and a little east of the sand dune bowl.
Instead we hiked generally south to the head of a big canyon that opens out to the northeast. We considered hiking down it and out towards some red teepees off in the distance but the head of the canyon was a little too steep to descend so we continued south up onto an plateau of irregular white
Not much wildlife today either - a black bovine along the trail on the way in, several Side-blotched Lizards, Ravens, the Golden Eagle, the possible Peregrine, several Rock Wrens, a pair of Titmice in a bush above the crack (and slightly too furtive for photos) and a flock of Pinon Jays somewhere out there.
03/17/2010 Wednesday Buckskin Gulch
Our route
Photo Gallery
On the way out from Wire Pass, about two miles from hwy 89, we turned right on a side road and found a flat spot to camp about a quarter mile up. Overnight we hung David's pack and clothing on bushes around camp hoping the odor imparted to them yesterday by his poop in a bag would dissipate. He had to go while we were in the Wave and there was no place for it, so we used a couple of ziplock bags in which we'd been carrying our lunch. Later, up on top, I found a somewhat weathered purple fleece pullover and we wrapped the bags in that, but to David's dismay the odor still managed to permeate his pack. This morning his clothes were OK but the pack wasn't quite. We stopped at the BLM ranger station to deposit the bag and I draped the poopy purple pullover on a log in the sun all day while we hiked Buckskin Gulch. It was fine, though still a little sandy, when we returned to the car at dusk.
Absorbed in exploring the canyon we forgot about lunch, then when we finally noticed that we were hungry we couldn't find a sunny spot
my favorite shot from our last trip
. I don't think the canyon was much different but we were there a little later in the day, which made a big difference in how particular places in the canyon were illuminated.
03/18/2010 Thursday Page, AZ
For today, our last full day before we had to head home, we had three locations left that I wanted to visit - Lower Antelope Canyon, Upper Antelope Canyon, and Water Holes canyon. We decided to see if we could get a permit for Water Holes first, then check out Lower Antelope and maybe Upper Antelope, then try Water Holes if we had time. We drove out to LeChee pronounced "hle-chi'ee" according to the Navajo woman at the LeChee senior center) but the Navajo parks office in the white trailer behind the pink stucco building was closed. The woman at the senior center gave us a couple of phone numbers to try but no-one answered, so we drove back to Lower Antelope Canyon.

Lower Antelope Canyon
Photo Gallery
The photography was trickier than I remembered. On our previous visit I'd been using a Panasonic point-and-shoot without doing anything special with the settings. While the colors in
my photos from that trip
were stunning, I'd been a little frustrated with high noise levels and the inability to control depth of field.
Having found my photos from last time somewhat cluttered, I looked for simpler compositions this time. Inspecting them on the camera viewfinder I was somewhat disappointed but once I got them onto the computer, I was much happier with
the results
.
Upper Antelope Canyon
Photo Gallery
In a state of aesthetic fatigue after three hours in Lower Antelope Canyon, we drove across the street and signed up for a tour of Upper Antelope Canyon. With two couples from Texas and a young man from Norway we piled into the canopied bed of something like a pickup truck and rode up the wash with our tour guide from
Antelope Canyon Navajo Tours
. I recalled his name as Mike but the card he gave me says Dalvin Etsitty 928-698-3384.
The canyon itself is more open and spacious inside and much darker than Lower Antelope. Fluted walls of dark reddish sandstone rise directly from a flat sandy floor then close in overhead allowing, during midday from spring to fall, a few beams of sunlight to reach down inside.

Water Holes Canyon
Our route
Photo Gallery
When I told our guide about our desire to hike Water Holes canyon and our lack of a permit he told us "Just go hike up it and if you see a ranger, pay him the permit fee." That sounded good to us so we drove down there, following 89 west past Page to 98, then south a few miles to park on the left side just north of the bridge. The parking area was fenced and gated with a big weathered sign which stated "Entry without permission is a violation of tribal and federal law" or some such thing. Moreover the gate was padlocked, but the lock was open and several cars were already parked inside, so we opened the gate and pulled in too. I checked the windshields of the other cars, at least one of which was from out of state, and saw no permits so I figured we wouldn't attract any attention. Not until we were hiking back down the canyon around sunset did it occur to me that we would be the last ones out, and we might find the gate locked with our car inside, or worse, with our car towed away. I prayed about that but didn't share my worry with David. He'd find out soon enough.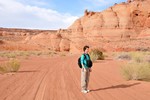 I anticipated a quick 3-mile hike up to the slot. It turned out to be more like 4 1/2 and almost all in sand, so not quick either. Clouds were beginning to build but the sky was still mostly clear overhead and we were almost hot for the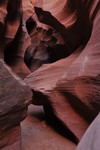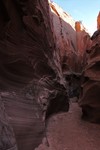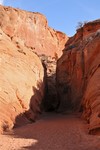 first time in our whole trip. It took us about an hour and a half to reach the entrance to the slot. We set out overland for the powerline, followed a track along the line to the wash then followed a highway of ORV tracks up the wash to the slot entrance. That was fairly impressive, about a quarter mile long with a sandy floor most of its length like Upper Antelope but narrow, sinuous and fluted like Lower Antelope. I'd guess it was about 100' deep at the deepest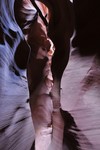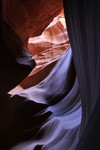 point though the first part was only 30' or so deep. Had the sun been high in the sky I think the colors would have been very nice but at 4:30 in the afternoon only the top of the rim was still sunlit. Not only were the colors subdued but one corner in the slot was so dark we had to feel our way around it.
The first slot opened up into a wash again but after about a quarter mile we came to a dry pothole falls about 10 feet high. David managed to scramble around above it but I didn't quite dare follow him. By hiking up around to the left there was a place to drop into the canyon above the falls but it too was steeper than I wanted to tackle late in the day. David scrambled out that way after exploring a short ways up one of the branches. The right branch is apparently the one to take; it extends for some distance and is very narrow in places, according to
The American Southwest website
.
On the way out we hiked along the rim of the upper slot canyon section. That was a little spooky; from above the slot is a black crevasse in the weathered sandstone, narrow enough to jump across in many places though I didn't dare try. Just thinking about still tweaks my innards. David was bold enough to sit on a point of rock over the chasm; the photo doesn't manage to convey how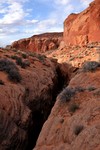 scary that was. Once past the slot we had a long hike out. We ate tangerines and cookies as we walked, and stopped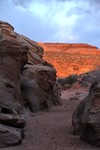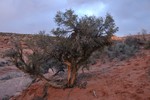 for photographs when the sun emerged to light up the cliffs not long before sunset. Below the powerline we started down the middle section of the slot but when we reached the impassable dry fall we scrambled out on the left and followed ledges along the rim back to the car. As I expected we were the only car left in the parking area, but much to my relief, the gate was still unlocked. About a mile down the road, I noticed a fluttering on the windshield, a note under the wiper. It was from the ranger asking that we lock the gate on our way out so we returned and did so. With gratitude to Jesus and the Navajo ranger.
3/19/2010 Friday Kanab to Twin Falls (Coral Pink Sand Dunes)
Though I would have liked to stay another night and hike back up Water Holes canyon, that trip really needs a full day and we'd have had to leave by early afternoon, and then drive 24 hours straight to get back in time for the CWA charity auction Saturday evening, so instead we started home. We didn't even stop at a Mexican restaurant in Page for supper. Instead we made camp off the road down to Coral Pink Sand Dunes state park a few miles north of Kanab. Someone has plowed a bunch of roads back into the juniper woods, apparently to cut some junipers, and we found a
05/07/2010 Friday
We had an unusually late frost last night, 37F on the back porch at 7AM and frost on the shingles of the garage roof as well as all across the field. Not a problem for anything in the garden because I don't have anything planted. It was still quite chilly a couple hours later to numb my fingers when I stood out on the back porch watching Yellow-rumped and Orange-crowned warblers foraging for their breakfast in the maple tree. The Orange-crowneds arrived here the day before yesterday; the Yellow-rumps a couple of weeks ago.